OK, every now and then someone sends me some before/after pictures of their vintage trailer and I have to say Miki's trailer named "Trashy" takes the prize so far for best make over that I've seen!
Facts about Trashy from her owner Miki:
1. She's a 1958 Kencraft floozie from Hollywood, Ca.
2. She cost $150.00 with no title….she has one now.
3. She is rare, she has a fiberglass roof. She still had the original brass hand pump fire extinguisher unused (you can see it mounted by the door in some of the pics)
4. Everyone thinks I named her Trashy because of "trailer trash" Not so. it was because she was full of garbage and trash the guy was shoveling it out with a big coal shovel when we went to look at her. He filled two big cans full and then a bunch on the ground. When we got her home we took that much out again, not to mention a large squirrels nest under the stove. And like I said she's a floozie!
She will be painted on the outside  in the spring.  I'm still working on her bed area making ruffled red curtains and planning on a small shelf across the back to sit things on.
Trashy Before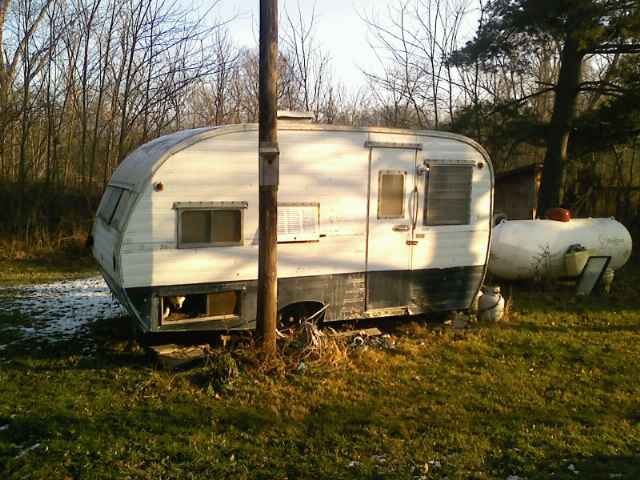 Trashy After