OK, this is probably the neatest sleeping arrangement I've seen done in a vintage trailer. Imagine you have a small trailer that sleeps only 2 and you would love to have just one more bed to either sleep a child, guest, etc., Well, here you go! These folks converted the closet area in a front kitchen model camper into a sleeping area.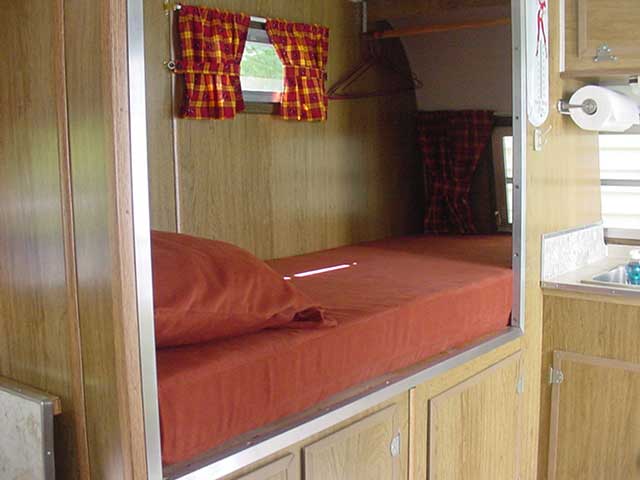 Source of photo unknown (If this is your trailer, let me know!)
Isn't that so neat!! I really love it and love how they didn't totally take away from the closet concept as you can see there is a clothing rod at the back of the sleeping area. Oh and I love the little window with curtains and the storage cupboards beneath the bed. Would you miss the closet for the storing the porta-potti or luggable loo in? No problem. Where you see the storage under the bed you could create a pull out panel and store it there.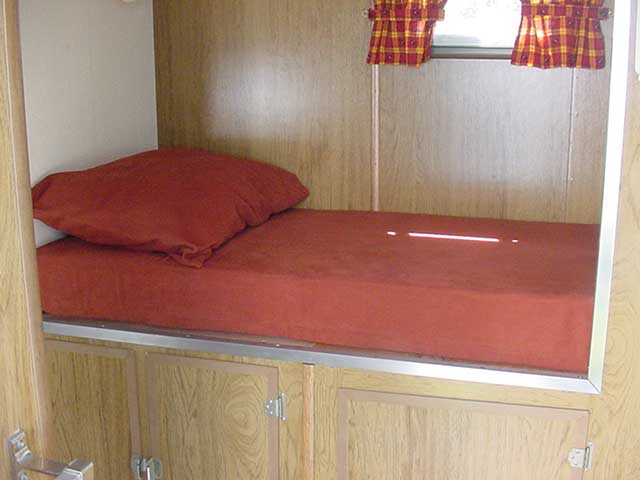 Source of photo unknown (If this is your trailer, let me know!)
I could also see adding a curtain rod at the top of the opening to create a cute privacy curtain. Wouldn't this be just the coziest place to sleep?
OK, I admit I did measure the closet in our 61 Shasta Compact and it's a bit small for a bed at 43 inches long, unless it were for a toddler LOL! But I could see someday having a permanent bed across the back of ours and extending the closet to make a bed like this. Fun stuff!