Do you all remember these? Do you remember sitting at a diner and being able to put in a dime or quarter and play a couple of tunes right at your table? OK, I admit I probably wasn't quite born yet to remember but I have seen modern ones in diner's in California.
This is a Seeburg Wall-O-Matic 100 Juke Box. This little table top version would sit at the table in a diner. It was connected to a larger main unit stored somewhere in the backroom of the diner. You would put in your coin and be able to select a couple songs that played right at your table.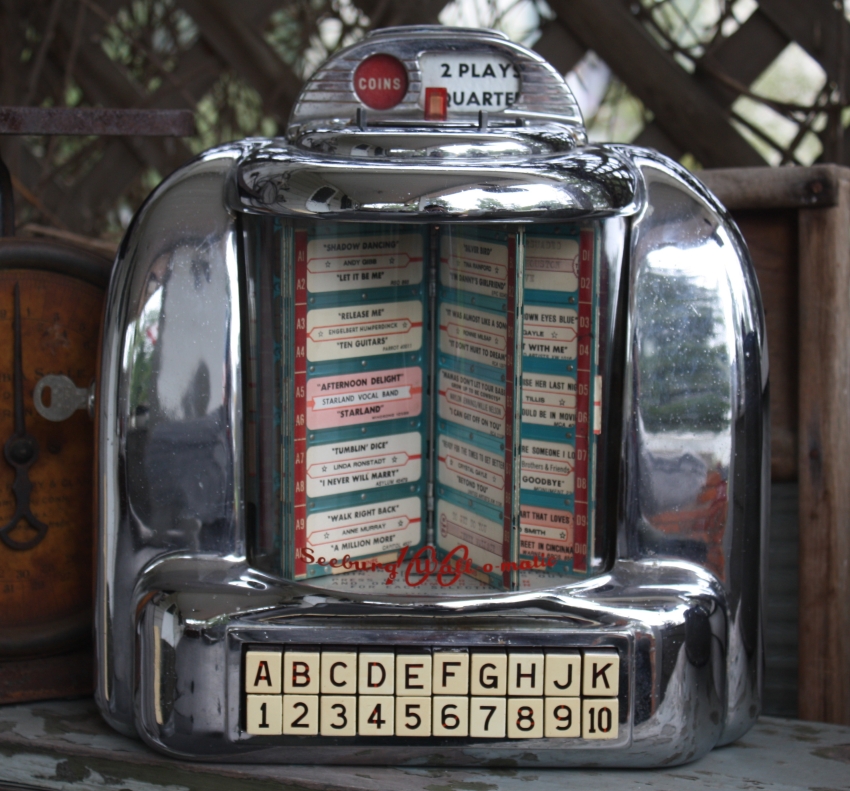 I was at an auction last weekend and spotted this gem. I knew the minute I saw it that I had to have it for the Bellwood! Even if for nothing else but a display piece to set at the dinette table. Well you can imagine my excitement when after some research I discovered you can actually get an adapter system that will make these work via your iPod and play the old songs that are on the Seeburg. http://cdadapter.com/ carries these adapter kits. Want to see one working? Check out this video.
I love the colors on these and the shiny chrome. This is a HEAVY little piece. It weighs just over 20 pounds. Here it is sitting at the dinette in our 1955 Bellwood.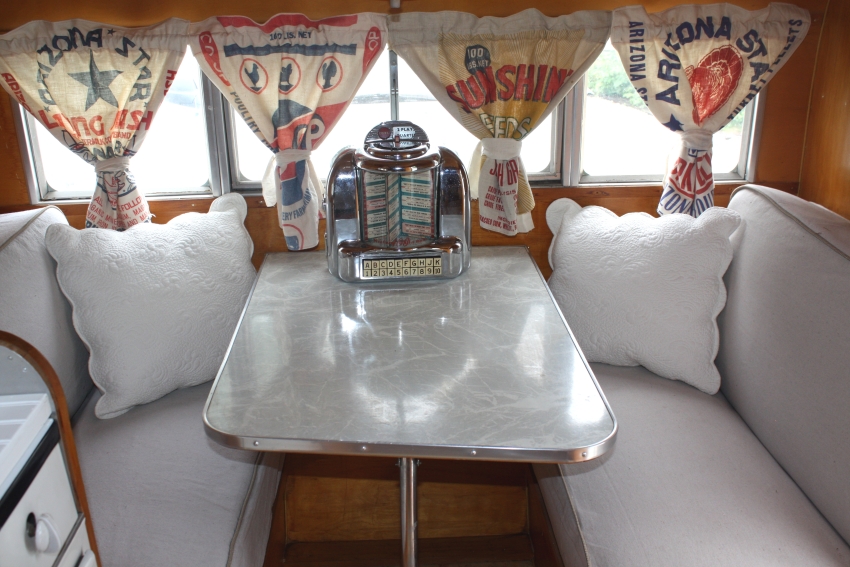 These units are a bit of a challenge to find. I've seen a few on eBay. But if buying one on eBay make sure it comes with the key you see sticking out of the side of mine. They are not cheap that is for sure. But if you want to have a little table top juke box for your trailer that has that vintage look and already plays  AM/FM or CD's you can get one of these Crosley table top juke boxes.
Now all I need is some drive-in speakers for outside (: